High Strength Friction Grip Bolt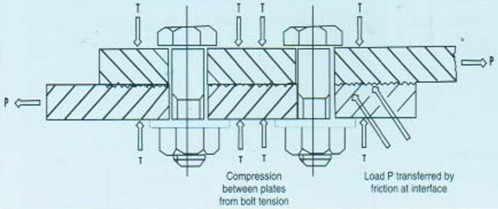 Structure Bolts, Nuts and Washers in Friction Grip Joints
The use of high strength structual fasteners in friction grip joints has been one of the most importnat developments in structural engineering over the last four decades. It provides a simple method of transmitting loads through a structural joint by the friction on the contact face developed through the high clamping force from correctly tightened high strength bolts and nuts.
The bolts are fitted in clearnance holes and since the joint is designed to resist slp , they are not subject to bearing or shear forces and thus remain in virtually static tension throughout their working life with fluctuating loads having very little, of any effect on bolt stress.
The head dimensions (across float sizes) of H.S.S. Bolts and Nuts are one step higher than those of the normal hexagon bolts and nuts of the same diameter. The bearing pressure under the head of H.S.S. Bolts will this be necessarily lower than that of the conventional of the hard bolt head into softer structural steel is therefore prevented.
Reliability:
Once tightened, the bolts will remain tight and maintain the permanent strength of the joint. Absence of heavy stress concentration due to absence of bearing between bolts and plates. As bolts are in tension, it does not permit loosening, thus making it most ideal where vibrations are involved.
Economy:
Fewer high strength bolts are required than M.S. bolts and rivets. Drilling of close tolerance holes is not required. Overall weight of the structure will be very light.
Simplicity:
A minimum of skill is required in tightening and the operators need only to follow a few simple rules.
Convenience:
Whether in the workshop or at the site, H.S.S. Bolts enable joints to be made easily. Welding of site splices can be elimnated avoiding the difficulties of welding in adverse weather conditions. Absence of pneumatic hammers used in riveted joints reduce noise level.
Maximum Permissible Applied Forces for Joints as per IS 4000:1992
Nominal Size of Bolt
Stress Area of Bolt in mm&sup2
Maximum Permissible Applied Forces in Bolts in kN
Tension (P) in Bolts of Preperty Class
Shear in Bearing Type Joints V for Bolts of Property Class
Shank
Thread
8.8
10.9
8.8
10.9
Shank
Thread
Shank
THread
(1)
(2)
(3)
(4)
(5)
(6)
(7)
(8)
(9)
M 16
201
157
56.7
78
40.2
31.4
52.3
40.8
M 20
314
245
88.2
122
65.2
50.8
81.6
63.7
M 24
452
353
127
176
93.8
73.2
117
91.8
M 30
706
561
202
280
146
116
148
146
M 36
1017
817
294
407
211
169
264
212
Thread Size
M16
M20
(M22)
M24
(M27)
M30
M36
Pitch
2.0
2.50
2.50
3.00
3.00
3.50
4.00
dw
Max.
16.70
20.84
22.84
24.84
27.84
30.84
37.00
Min.
15.30
19.16
21.16
23.16
26.16
29.16
35.00
da
Max.
18.70
23.24
25.24
27.64
30.40
33.40
39.40
S
Max.
27.00
34.00
36.00
41.00
46.00
50.00
60.00
Min.
26.16
33.00
35.00
40.00
45.00
49.00
58.80
E
Min.
29.56
37.29
39.55
45.20
50.85
55.37
66.44
K
Max.
10.75
13.40
14.90
15.90
17.90
19.57
23.55
Min.
9.25
11.60
13.10
14.10
16.10
17.65
21.45
N
Min.
0.60
0.80
0.80
1.00
1.20
1.20
1.50
Maxumum Recommended Tightening Torque Metric Thread for Quality 8.8
Nominal Thread Dia mm
Course NM
Fine NM
M16
252
268
M18
347
391
M20
492
546
M22
670
736
M24
851
926
M27
935
1344
Mechanical Properties of H.S.S. Bolts
Thread Size
Stress Area
Property Class 8.8
Property Class 10.9
Ultimate Load (Min)
Proof Load (Min)
Hardness
Ultimate Load (Min)
Proof Load (Min)
Hardness
mm&sup2
Newtons
Newtons
HRC
Newtons
Newtons
HRC
M16
157
125600
91060
22-32
163280
130310
M20
245
203350
147000
23-34
254800
203350
(M22)
303
251490
181800
315120
251490
M24
353
292990
211800
367120
292990
32-39
(M27)
459
380970
275400
477360
380970
M30
561
465630
336600
583440
465630
M36
817
678110
490200
849680
678110
High Strength Structural Washers: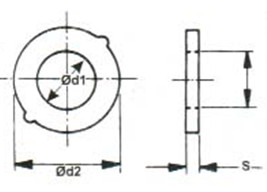 High Strength Structural Washers - Dimensions
Bolt Size
M16
M20
(M22)
M24
(M27)
M30
M36
d1
Min.
18.00
22.00
24.00
26.00
30.00
33.00
39.00
Max.
18.43
22.52
24.52
26.52
30.52
33.62
39.62
d2
Max.
34.00
42.00
44.00
50.00
56.00
60.00
72.00
Min.
32.40
40.40
42.40
48.40
54.10
58.10
70.10
S
Max.
4.60
4.60
4.60
4.60
4.60
4.60
4.60
Min.
3.10
3.10
3.40
3.40
3.40
3.40
3.40
Weight Kg/1000pcs
20.3
31.3
33.2
44.7
54.8
61.4
89.7
High Strength Structural Nuts: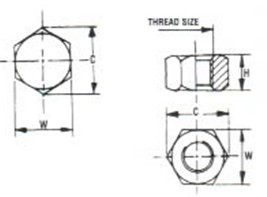 High Strength Structural Nuts - Dimensions
Thread Size
M16
M20
(M22)
M24
(M27)
M30
M36
Pitch
2.0
2.50
2.50
3.00
3.00
3.50
4.00
W
Max.
27.00
34.00
36.00
41.00
46.00
50.00
60.00
Min.
26.16
33.00
35.00
40.00
45.00
49.00
58.80
C
Min.
29.56
37.29
39.55
45.20
50.86
55.37
66.44
H
Max.
17.10
20.70
23.60
24.20
27.60
30.70
36.60
Min.
16.40
19.40
22.30
22.90
26.30
29.10
35.00
Weight Kg/1000pcs
60.4
115.3
142.8
197.7
282.3
365.0
281.8
Mechanical Properties of H.S.S. Nuts
Thread Size
Property Class 8
Property Class 10
Proof Load
Hardness
Proof Load
Hardness
Newtons
Newtons
M16
168900
HRB 89
to
HRC 38
195500
HRB 26
to
HRC 38
M20
263400
305000
(M22)
325700
377200
M24
379500
439500
(M27)
493400
571500
M30
603100
698400
M36
878300
1017200