Heat Exchangers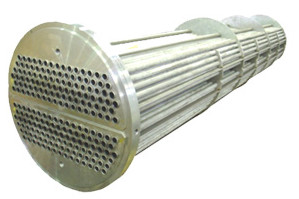 Surecon has tied up with reputed Japanese and Korean heat exchanger manufacturers and business houses. These companies have over five decades of experience with a production capacity of various grades - including high grade steel fabrication and have ASME certifications.
The following services can be provided:
Products:
Shell & Tube Heat Exchanger
Kettle Type Heat Exchangers
Fuel Gas Boiler
Gas Compressor Skid Package
Fuel Gas Heating Skid Package
Plate Type Heat Exchanger
Heat Transfer Equipment
Process piping
Material Grades:
Carbon Steel, Stainless Steel, Aluminum Brass, Copper Nickel, Duplex, Super Duplex, Incoloy, Nickel Alloy, Titanium etc.
Certification / Compliance:
ASME : SEC. VII Div. 1 "S" , "U" and "U2" Stamp, B 31.3, B31.1
TEMA 'B', TEMA 'C' & TEMA 'R'
API660, API661 & API650
ISO 9001
Design capabilities and software:
HTRI thermal design package
PVElite Mechanical design package
In-house manual program software
Work Scope:
Our tie-ups provide consultancy services to remedy corrosion problems and recommend preventive measures than can be taken.
Pre-commissioning cleaning of boiler & boiler systems; process & utility piping, exchangers, storage tank, etc.
System oil flushing of hydraulic systems, lubrication oil systems, fuel oil systems, etc.
Ultrasonic cleaning of air coolers, condensers, heat exchangers, engine parts, filters, etc.
High pressure water jet cleaning for heat exchangers, condenser, boilers, etc.
Oil-free degreasing of medical, air conditioning, refrigeration and LPG Piping.
Cleaning and maintenance of (HVAC) systems for building heating, ventilation and air conditioning.
Cleaning and sterilizing of process water tank and its associated piping lines.
References:
| Client Name | Item Description |
| --- | --- |
| Shell Refinery Singapore | Titanium Heat Exchangers |
| Bharat Oman Refineries Ltd | Super Heater Vessel |
| Chevron Thailand | Heater Vessel E-3030 |
| Chevron Thailand | Utility Gas Skid Cross Heat Excahnger |
| BP Kwiana Refinery | Mixer Housing |
| Shell Eastern Petroleum | Mixer Housing |
| Foster Wheeler | Mixer Housing |
| Shell Eastern Petroleum | Mixer Housing |
| Exxon Mobil | Mixer Housing |
| Aker Powergas Pvt Ltd | Mixer Housing |
| Hyundai Engineering & Construction | |
| Nestle Oil Singapore | Sulphuric Acid Feed Drum |
| Sinopec | Heater Vessel |
| Petronas Malaysia | Deoiler Hydocyclone |
| Petrochemical Corporation of Singapore | Steam Jacket |
| Petrochemical Corporation of Singapore | Crude Oil Heater |
| Petrochemical Corporation of Singapore | Gas / Gycol Exchanger |
* If needed we can supply the complete list of References -for a specific industry or product.